Description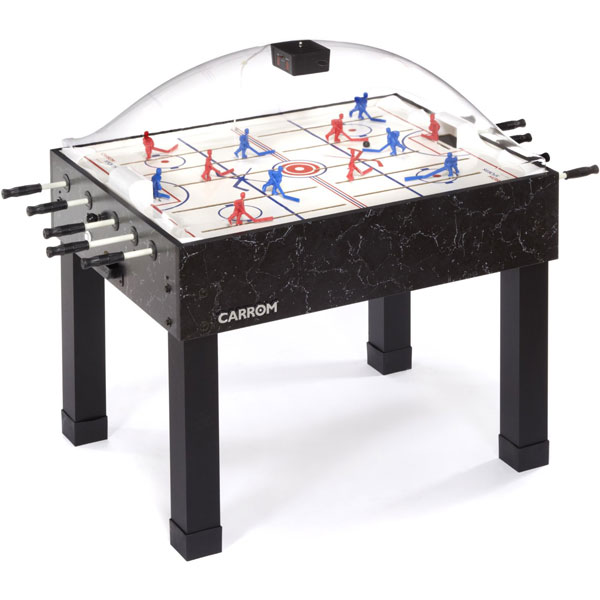 Carrom Super Stick Hockey Table
Price includes shipping.
Put yourself in the middle of the action with the Carrom Super Stick hockey table. You need a domed hockey game that is built to take a beating, night after night. So if the game's too light, trust us, it will fall apart. Major disappointment. That's the penalty for buying an inferior box, which is why CARROM Stick Hockey is the right choice for you. It's made with care in the USA using only top-quality components. It's every bit the product other domestic games are — at a much better price. Check the specs. Rugged assembly. Vacuum-formed, shatter resistant dome for strength and exceptional optical clarity. Gears that will stand up to the extreme mechanical stress generated by frequent extended play. The Super Stick Dome Hockey Table's dome is manufactured from shatter resistant PETG so you can play as hard as the pros. It comes equipped with an electronic scoring unit that tracks periods and celebrates each goal with light and sound to make you feel like you're playing in the arena. Super Stick Hockey is as close as you'll get to real hockey on a hot mid-summer afternoon.
The cabinet is made of thermal-fused, wear-resistant black Melamine, with a shatter-resistant plastic dome over the top and a full-perimeter, extra-thick edge banding around the sides. As a result, the table holds up to heavy use over time. The heavy miter-fold black vinyl legs, meanwhile, include sturdy leg boots for easy and accurate leveling. The real star of the show, however, is the built-in scoring unit, which makes you feel like a real Red Wing or Blackhawk. The unit–which shuts off automatically after two to three minutes of non-use–helps preserve battery power.The stick hockey table comes with two sets of solid-color, hand-painted players and two pucks.So go ahead. Knock yourself out. Slide the solid fiberglass rods like mad. Spin your wingers and forwards like dervishes. Fire slap shot after slap shot toward your opponent's goal. This is one tough game. It'll take whatever you dish out, period after period. Period.
MODEL #415.00 | UPC # 0-43077-41500-1
FEATURES & SPECIFICATIONS CABINET: Thermal-fused, black marble, wear resistant Melamine PLAY SURFACE: Coated graphics LEGS: Heavy black vinyl with leg-boots GEARS: Precision injection molded for long wear, internal slip clutch to prevent binding and shearing SCORING UNIT: Tracks periods and celebrates each goal with light and sound, may be reset at any time, automatically shuts down after end of third period, requires 4 AA batteries (not included) IN THE BOX: Two pucks and one set of solid colored players
GAME SIZE LENGTH: 45.25″ WIDTH: 33.75″ WIDTH WITH LONGEST ROD PROTRUDING: 58″ HEIGHT: 47″ WEIGHT: 140 lbs. CARTON DIMENSIONS 59″ x 37″ x 25.5″ (32.21 cu. ft.)
Please read this important document about delivery of this product – Delivery Instructions
THIS PRODUCT IS NOT A TOY! It is not intended for use by children under 13 years old. Game is fully assembled except for the legs and electronic scoring unit