Description
STIGA STANLEY CUP 3T TABLE HOCKEY GAME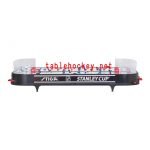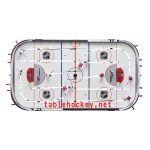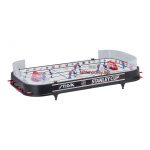 STIGA STANLEY CUP 3T TABLE HOCKEY GAME
Update – Orders placed for this specific product from Sept 14 and later will ship Wednesday Sept 20th
Stiga Stanley Cup 3T Table Hockey Game is the standard model featuring a new sleek looking black rink. Stiga Stanley Cup 3T Game comes standard with 3 colored teams including Blue/Red, Blue/White and Grey/Black. We also offer a Stiga Stanley Cup 3T version with 2 NHL teams (Detroit-Toronto) and sometimes some other combinations with other NHL teams included. And you can also order a 5 team package where you can get 2 NHL teams (Detoit-Toronto) plus the 3 multi colored teams for 5 teams total.  With the Stiga Stanley Cup 3T Table Hockey Game you can step on the ice with your friends and immerse yourself in the atmosphere with this updated NHL-inspired table hockey game from STIGA. With a series of improvements and modern design, the Stiga Stanley Cup 3T Table Hockey Game takes a step into the 21st century. Bring the fun and excitement of a quick and thrilling hockey game to your home with our classic Stiga Stanley Cup 3t table hockey game where you control the players and shoot the puck by using the rods. Fast and easy assembly. Rink is already assembled and you just have to snap on a few parts. For two players. Price includes shipping.
Stiga 3t Table Hockey Game Features
Sleek looking black rink
3 teams included. Blue & Red, Blue and White, Grey & Black plus option to add NHL teams
Dasher boards featuring logos of all NHL teams including the Seattle Kraken
New inmould goal counters.
Ice Sheet with NHL logos
Goal deflectors and newly designed goal nets.
New puck with inmould STIGA-logo.
Real plexiglass pieces wrap around the back of the goal
Size: 96 x 50 cm (L x W).
All parts are replaceable.
Minimal assembly required
Left winger can go behind the net
NHL logos on the ice
Stiga Stanley Cup Hockey Games are the most popular table hockey games in the world and the only table hockey games licensed by the NHL. They are also the official game of the World Table Hockey Association. With easy-to-move control rods, 3D interchangeable players, goalies that move side to side and spin 365 degrees and players that can go behind the net, Stiga has brought Table Hockey into the 21st century and the action is non-stop! All parts are replaceable so your game will last a lifetime! This is the number one reason to buy Stiga brand. No other table hockey manufacturers offer replacement parts.
Stiga Stanley Cup Table Hockey Games are the best table hockey game ever made. These high quality durable toy hockey games have been manufactured in Sweden since 1957. Over the years they have refined it and added features to make it the best selling and most beloved Table Hockey Game in the world.
Stiga Stanley Cup Hockey Games are just like the toy table hockey games you had fun playing as a kid, but better! Experience that fun all over again with your kids and friends!
Teams and pucks link – Make sure to check out our extra NHL Teams, International Teams and Pucks
Specifications
The game box measures 38″ x 20″ x 3.5″
Overall game dimensions: 37″ x 19.75″
Rink: 35.5″ x 19.75″
Ice Surface: 33.25″ x 18″
Goal Opening: 4″ x 2″
Plexiglas: 24.5″ x 3″
Puck: 1″ diameter
The legs raise the table 1.65″ off the table surface.
Table Hockey Game – Contents
* Black Rink base with pre-installed ice sheet * 3 generic colored hockey teams and option for NHL team packages * 2 Plexiglas Sheets * 2 Goal Sets w/ goal deflectors * 2 Goal Counter scoreboards * 2 Hockey Pucks * Extra Rod Grips * Stiga Table Hockey Game Manual * 4 Leg Supports * Rods are already installed and game takes 5 minutes to set up
Price covers shipping within the lower 48 states only. Hawaii and Alaska residents, please email us to purchase as shipping rates are significantly higher.
Live outside the USA? Click here for International Orders.
Thank you for supporting a small family business. We have been selling Stiga Table Hockey for over 23 years and we know our products inside and out. Your game purchase comes with unlimited support, so if you have any questions or support issues, someone is here to help you! We have been the number one retailer of table hockey games in the United States for years. Our customers are like family and nobody beats our customer service. And unlike the big online retailers, we care enough to ship your game in a custom made shipping box for extra protection!
Comparing the Stiga Hockey Game Models
All Stiga hockey games are basically the exact same rink with mostly the same parts and all players fit all games. The differences are mostly in the decorations, teams and ice surface.
Stanley Cup Game (original version)– white rink, standard ice, NHL logos and decorations on ice, boards and outside rink,, 2 NHL team packs with very detailed painted faces and uniforms, players are both left and right handed. Black rod grips
Stiga Stanley Cup 3T Game (new 2022 model) – Sleek looking Black rink. NHL logos and decorations on ice, boards and outside rink, 3 generic colored teams w/option to add NHL teams, generic teams have plain painting style (faces not detailed) and are lefthanded. New goal design and puck deflectors and Stiga logo on pucks, scoreboards have numbers in the plastic mold. Red rod grips.
Playoff 21 Peter Forsberg Game – THIS GAME IS CURRENTLY NOT AVAILABLE IN THE USA, black rink with thicker ice surface, European sponsors on boards and ice, Sweden & Canada teams w/plain painting style (faces not detailed), country name and numbers on back of uniforms, all left handed players. The goal design is little different on this model. New goal design and puck deflectors, Stiga logo on pucks, scoreboards have numbers in the plastic mold