Description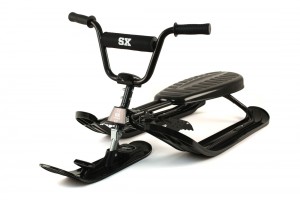 In stock and ready to ship!!! Do not hesitate, they always sell out before Christmas!
Alaska Residents – shipping this product to Alaska will incur an additional $45 in shipping fees. Please place order by phone.
Take it to the X-treme with the Stiga SX Pro X-treme snow racer! Zip down the hill in furious speed, controlled by the fantastic Curve Ski System. SX PRO is designed for extreme speed and action-lovers. Snowracer X-treme takes the steering and maneuverability of the Snowracer to another level. Curve Ski System and a robust frame in black color. Has an automatic winder which makes it more comfortable to pull the Snowracer. Features Twin Tip Skis and a Carved Shaped Front Ski for Improved Steering. Comes Equipped with a Handlebar and Handles in Non Slip Material for Ultimate Steering and Maneuvering! Comes with a Robust Frame in Black Color.
Equipment : Automatic winder, steering spring, brake. Ages 3 and Up / Tested at 110 lbs. Assembled Dimensions: 34" L x 18"W x 9" H / Weight: 18 lbs. Model: 73-3388-01