LATEST HOLIDAY SHIPPING INFORMATION FOR STIGA TABLE HOCKEY GAME ORDERS
****IMPORTANT – IF YOU WANT TO ORDER FEDEX EXPRESS SERVICE MONDAY DECEMBER 23 FOR DELIVERY DECEMEBER 24, PLEASE DO NOT ORDER ONLINE. OUR ONLINE SITE IS NOT SETUP FOR EXPRESS SHIPPING RATES AND WE WILL JUST HAVE TO CANCEL THE ORDER AND WE WILL STILL GET CHARGED THE CREDIT CARD FEES FROM OUR PROCESSOR. INSTEAD, PLEASE SEND AN EMAIL TO TABLEHOCKEYSHOP@AOL.COM. TELL US WHAT YOU WANT TO ORDER AND YOUR CITY, STATE AND ZIP CODE AND INCLUDE YOUR PAYPAL ADDRESS. WE WILL GET BACK TO YOU WITH A PRICE ESTIMATE AND WE WILL SEND YOU A PAYPAL PAYMENT REQUEST.  YOU THEN SIMPLY SIGN ON TO PAYPAL AND MAKE THE PAYMENT. SORRY BUT WE CAN NOT DO PHONE ORDERS ON MONDAY, EVERYTHING WILL BE HANDLED BY EMAIL. DUE TO WEIGHT AND SIZE OF PACKAGE, FEDEX STANDARD OVERNIGHT EXPRESS SERVICE IS EXTREMELY EXPENSIVE FOR THESE HOCKEY TABLES AND WILL RANGE FROM AN EXTRA $45 FOR THE ZONE CLOSEST TO PHILADELPHIA TO AS MUCH AS $140 EXTRA FOR THE PACIFIC NW. AND WE ARE NOT INFLATING THOSE PRICES, THAT IS RIGHT FROM THE FEDEX RATE CALCULATOR. THE MAP BELOW IS A GROUND MAP SO PLEASE DISREGARD AS THE EXPRESS RATE USES COLOR CODED MAPS. THE CLOSER YOU ARE TO PHILLY, THE CHEAPER IT WILL BE.
SUNDAY & MONDAY DECEMBER 22 & 23 – We are taking game orders this weekend and on Monday probably up until at least 4 PM (depending on truck pickup time) for those in the pink 1 day zone in the Fedex Ground map below for receipt on Christmas Eve. Small parts and team orders ship by USPS first class and priority mail and map below does not apply. You would need to upgrade to Express service for Christmas delivery for small part and team orders and would need to contact us for a paypal payment request instead of placing order online. While we cannot 100% guarantee ground shipping at this late time, we have been doing this a long time and we have had many packages shipped on the 23rd which successfully arrived on the 24th with fedex ground shipping. You must ship to a residence and again you must live in the 1 day pink zone. Our experience is that everyone rushes over the express service and that becomes jammed up and even has service failures while the ground service runs very light. Fedex is a well oiled machine. Their ground drivers are working 6 AM-10 PM.  I don't think people realize what heroes those guys are! They always do a herculean effort and it's all hands on deck and they truly want to get everything delivered in time. While we are not seeing many delays at this point, we always have to make the usual disclaimer that FedEx Ground and standard USPS mail are not guaranteed services. Holiday volume delays and other situations are always possible and we do not take responsibility for any service failures, weather events, etc. that may occur. If you are placing an order at this late time, you do so with that understanding. We do not make shipping refunds on late shipments.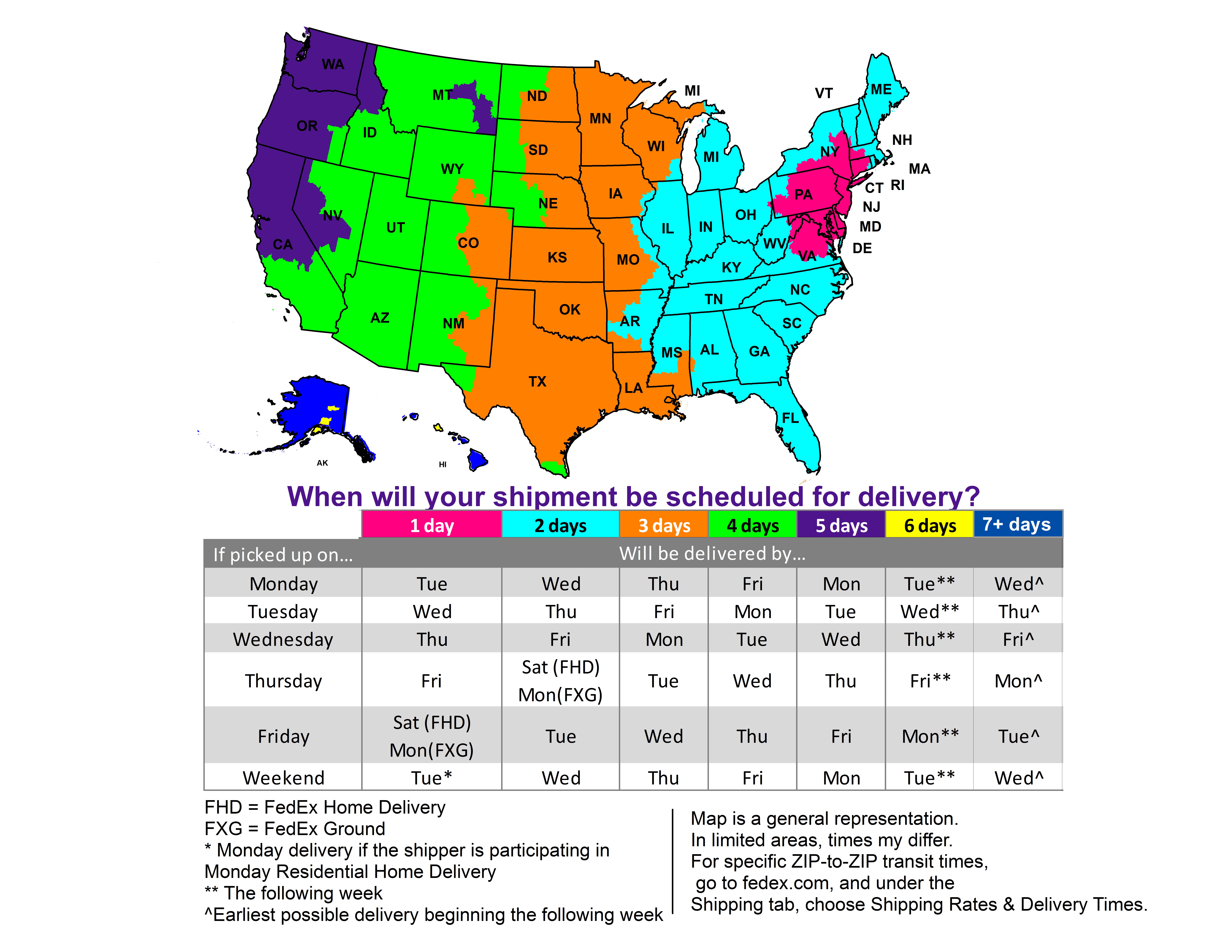 Small part and team orders – Please use this USPS calculator to determine your transit time –https://postcalc.usps.com/ServiceCommitments