Description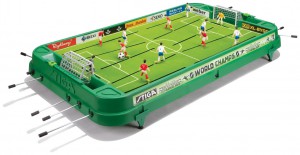 Price includes shipping.
Stiga World Champs Table Soccer Game – Get Ready for Some Action!
Team USA vs Mexico!
Fast and Fun Family Entertainment with the Stiga "World Champs" Table Soccer Game. Stiga has combined all the skill and fun of Foosball and Rod Hockey to achieve a realistic and challenging table game that kids of all ages can enjoy.
The Stiga World Champs Table Top Soccer Game boasts an improved design to enhance play! This new modern version features a new steering rod design and new ball, making the touch and feel of the game very enjoyable. The World Champs Table Soccer Game includes an excellent rod mechanism that lets you control the action the way you want with cool passing options and hard shots. All players are 3 dimensional and wear USA and Mexico colors. Players move 360 degrees and up and down the field for a maximum maneuverability and speed.
Dimensions: 37in L x 19.7in W x 3.5in H

Features a Durable, Colorful Playing Surface

Excellent Rod Mechanism Allows Players to Effectively Control the Ball for Nice Passes and Hard Shoots

Features Detailed, Painted Men to Add to the Fun!

New Game Ball Improves the Playing Experience!
Join the new table game revolution. Challenge your friends and family and become a champ. The Field and rods come assembled, you just need to snap on a few parts.
***As a bonus, we will include extra instructions on how to install the players. The instructions inside the manual are a bit confusing, so we created our own instructions and having these extra instructions will really help you when setting up the players. You can request either a .pdf file or paper instructions that we can put inside your game.***
All games sold in North America are prepacked with Team USA & Mexico. We also have a number of International teams available for purchase.